We had 9 days to experience Iceland. This proved to be a minimum time span to go around the whole island in order to have enough time to enjoy the beautiful nature.
The trip was mostly driving, hiking and seeing the nature. Also relaxing in hot tubs and eating in restaurants whenever it was possible in sparsely populated areas.
We booked our trip on late May which was only 3 weeks away from trip in mid June 2022. The prices were probably quite high this close to the journey.
I start with the practicalities like accommodation and car rental.
Here you can jump to the Iceland photo gallery at the end.
How much it costs to go around Iceland?
The total cost for one person was around 2600 € compared to spending a regular week at home.
As we received a 400 € compensation from the airline for a major delay, the final loss for us was 2200 € per person.
We were 2 persons, so hotel accommodation, car rental and many other expenses could be split. Traveling alone would cost much more per person.
Flights to Iceland - Prefer a single air carrier
Our original plan was to fly from Tampere (Finland) to Reykjavik (Iceland) by having an overlay at Riga (Latvia). This would be possible as Air Baltic has a home base at Tampere . The airport bus from Tampere airport operates conveniently close to our home door.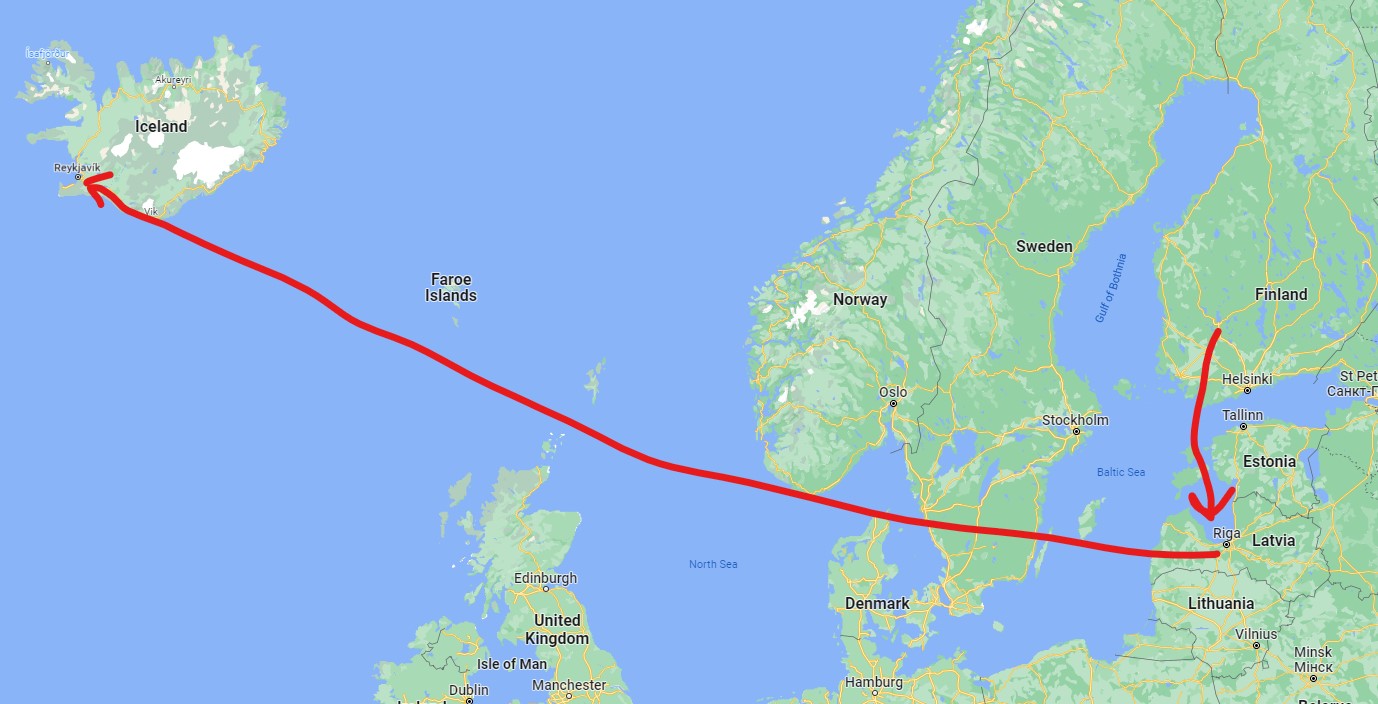 From practical reasons the outgoing flight was from Helsinki instead of Tampere. We were sleeping at Hotel Mestari at Helsinki. Disclaimer: My acquaintance is working there.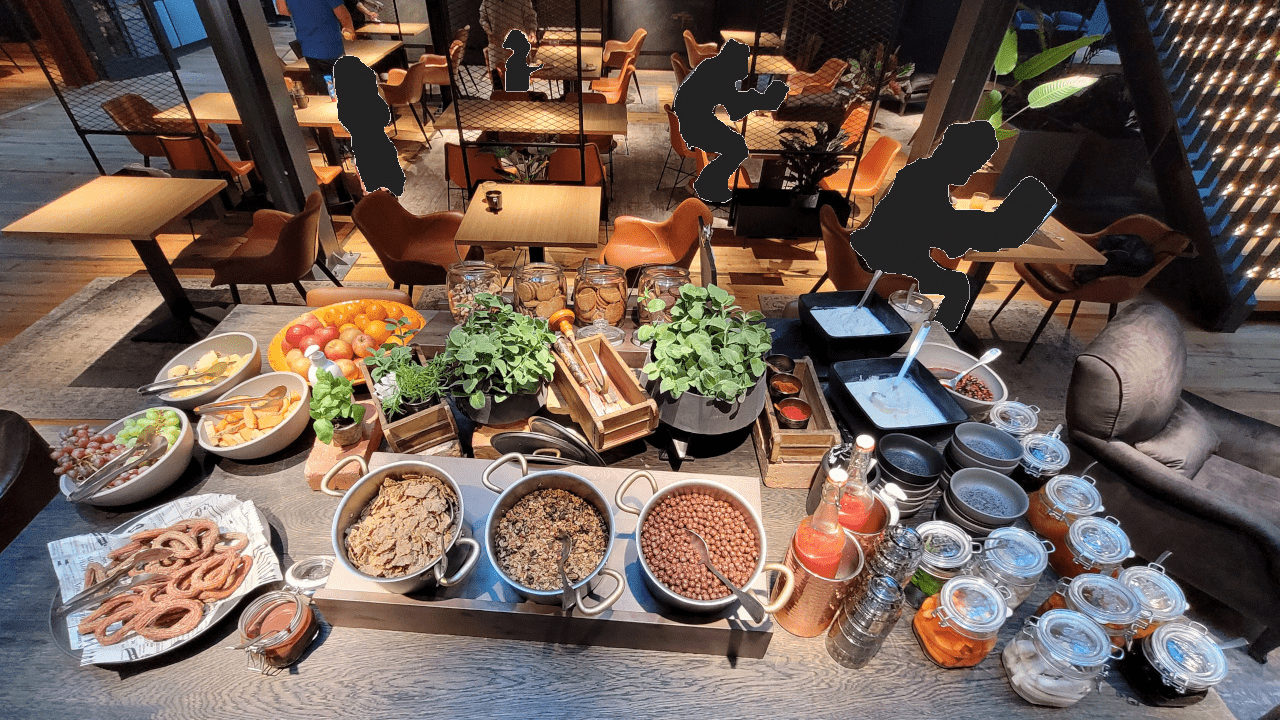 The expected landing time was on early afternoon. Because of major delays in European air traffic, we were re-routed and arrived to destination only at midnight. We were lucky to have the full route from a single air carrier to make the re-arrangements and baggage delivery easier.
We were eventually granted 400 € cash compensation per person according to EU regulations of flight delays plus approximately 15 € meal expenses. Claiming the compensation from Air Baltic was easy through this form and the response took only a few days.
A new learning for me: Take the first hotel night relatively close to airport in case you arrive late and tired.
Flight tickets per person: -520 €
Flight delay compensation per person: +400 €
Airport transportation in Finland: -40 €
Accommodation when going around Iceland - Hotel keeps you warm
We stayed all nights in hotels. It was nice to have a warm and dry place for each evening. Even though also the hotel rooms suffered the moist.
As a downside you need to plan the full tour ahead. I would not leave booking to the day of arrival when it's close to the high tourist season. And obviously it's cheaper if you are early.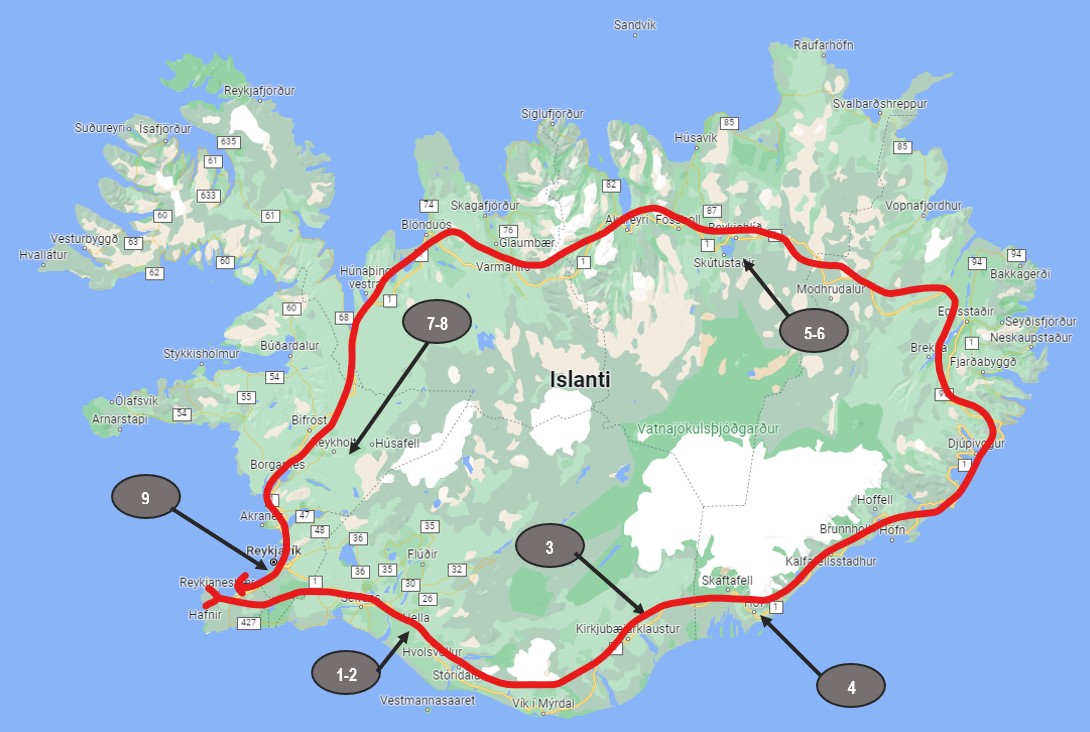 The best alternative for a car and hotels combination would be a camper van.
The hotel destinations were as follows:
Nights 1-2: Hella
Night 3: Kirkjubæjarklaustur
Night 4: Höfn
Nights 5-6: Myvatn
Nights 7-8: Borgarnes area
Night 9: Reykjavik
One night per village guarantees that the journey around Iceland proceeds in short intervals. Driving longer distances and staying multiple nights per hotel is more convenient because there is no need to constantly check-in and check-out.
I don't see any strategy superior, maybe mixing 1 and 2 night stays is a good approach. My recommendation would be to proceed the main road maximum of 4 hours a day according to Google Maps.
You can do 6 hours as we did from Höfn to Myvatn, but the day becomes quite full. There will be no dark moments in Iceland on June, as the northest parts of the island are just below the polar circle.
9 hotel nights for 2 persons including breakfasts: -1400 €
Car rental in Iceland - 4 WD is a safe bet
Car rental was an obvious choice to maximize the freedom. Because we were only 2 persons, car size was not an issue. This was first time I rented a 4 wheel drive anywhere in the world regardless of being in places like New Zealand, Rocky Mountains and Australian desert.
The main reason for 4 WD was that is was not significantly more expensive than 2 WD. Not so much that I would have expected extreme road conditions. Eventually I was happy to have quite powerful car for the gravel roads. You can still see 90% of the recommended places around Iceland by a regular car. Especially if you stay closer to Reykjavik.
Here are the places where I would recommend 4 WD for:
The higher view point at Dyrholaey (Hike path exists)
Studlagil (Worth seeing if you hike east side of the river)
Borgarviki (Not worth seeing)
Hvitserkur (Not worth seeing)
Our 4 WD Nishan Qashqai consumed around 6,5 litres of diesel per 100 km. During the visit the price per litre was around 335 ISK or 2,45 €.
The ring road around Iceland is a bit over 1300 km. We ended up driving 2300 km as we went back and forth to see all the places we wanted.
The car was rented from Firefly (Hertz in Iceland?) through rentalcars.com. We had a minor crack in the wind shield when returning the car and Hertz charged us 1050 €! They told us that the whole wind shield must be replaced as it would be a safety hazard. Really?
Well, luckily we had an insurance through rentalcars.com so they paid the operation afterwards. I just sent the prints received from Hertz to rentalcars.com and the compensation decision took only one or two days without further questions.
Still, might be clearer to take the car and insurance directly from the rental company such as Hertz.
Car rental total: -1450 €
Fuel total: -400 €
Weather in Iceland on June - Prepare to get wet
We experienced all possible combinations of sun, wind and rain. Varying from 6 celcius and horizontal rain with stormy winds to to sunny 16 celcius.
Overall I did not mind chilly temperatures and moist weather. It means less insects and sweating. The clothes dried in the car while driving to the next place. I don't know how people survive only with tent in Iceland…
My regular clothing was sweat pants, long sleeved merino wool shirt and a jacket that is resistant to light rain. Personally I liked to have gloves as well. For similar adventures it would be better to have also water resistant hiking pants. Also a long rain coat would have been nice when the rain was at heaviest.
Best choice for the feet are definitely hiking shoes. Because I'm a lazy shopper, I had a mix of sneakers and rubber boots.
How to eat when going around Iceland?
There are not too many options for food in Iceland when going more than 2 hours away from Reykjavik.
Lunch restaurants with decent price range are rare. Most often the choice was something quick from a grocery store or more expensive food from a restaurant.
Our eating cycle was eventually something like this:
Breakfast: At the hotel
Lunch: Eggs and noodles with gas cooker
Snack: A mysli bar or a cafe
Dinner: A hotel or a restaurant in a village
Evening: Skyr and bread at the hotel room
Hotel breakfasts made the meal planning a lot easier. Preparing the food outside when it's cold, rainy and windy was not the most pleasent experience. Nevertheless, we had a basic gas cooker to boil water for instant coffee or noodles and eggs.
When fancy dinners are excluded, an average portion price was around 2700 ISK or 20 €. I estimate that eating costs were around 15 € higher per day compared to my regular week at home. Breakfasst are excluded from this calculation as it is included in hotel costs.
We took the camping type of gas cooker from home and bought a gas bottle from a grocery store.
Additional total food costs per person: -150 €
Paying and mobile network around Iceland - Works everywhere!
Cash is not really needed in Iceland. We raised 10 000 ISK or 72 € cash from the airport just in case.
We did no spend any of that. Even the most remote road side toilets had contactless credit card payment. Parking lots might have had a web service to pay by a credit card.
Phone's mobile network was working most of the time and always when it was needed for payments.
Iceland is not an EU country, but it belongs to European Economic Area (EEA). My Finnish mobile subscription provided 20 GB transfer per month within EEA countries which was more than enough for this trip.
We had only one issue from which you read more here: Credit card not working in Iceland N1 gas stations.
Nature places to see around Iceland - Don't make too detailed plans
I'm not listing all attractions around Iceland here. You can just pick the first free tourist map you find, drive the Iceland's main road number 1 and you will see all the cool stuff.
Be cautious about blog posts and social media posts about road trips around Iceland. You can't know what will be most memorable for you, as weather and schedules can change quickly.
Most of the nature places are 1-30 kilometers away from the main road by car. Most often there is a 1-5 kilometers walk to get the best views. In June there was always more than enough parking space.
When you plan the daily route, double the travel time from Google Maps. Any other road than number 1 can be a slower gravel road. You also need toilet breaks, fuel up the car, find food, and consult info centers. You also want to stop regularly to the road side parking spots at the best scenerys to take photos.
North-east part between Egilsstadir and Reykjahlid had no gas stations or human habitation. I still recommend driving through that route: Endless gravel desert and scenerys where you feel like being in another planet.
Maybe we had seen too many mountains and waterfalls already, but I felt that north-west did not have that much new terrain and sceneries to offer.
Parking and toilet fees in total: -50 €
Entrance tickets per person: -100 €
Around the Iceland - Photo gallery of the nature attractions
Here are some photos from the trip in the order we visited them. The trip started from Reykjavik area and went counter clockwise around Iceland.
The photos are only cropped and rotated but not otherwise manipulated after shooting them with my average Samsung phone. And trust me, there was more people in the attractions, but images look nicer when tourists are framed out.
You can find more detailed descriptions about each place from other blog posts by simply googling the name.