Polygons
Finland postal code boundaries as longitude and latitude degrees.
Guaranteed delivery
Delivery within 24h for fixed price of 189€ or 209$.
Free customization
Customization that benefits others is free of charge.
---
Order data for postal codes of Finland
The data will be sent within 24 hours. Contact request will not be a commitment to order. You can also call to phone number found here. Price for the dataset is 189€ or 209$ plus VAT 24%.
Download example of Finland's postal code data
Other common file formats are available free of charge.
The example files contains most of postal code boundaries for city of Tampere and Naantali municipality, which consists of several polygons.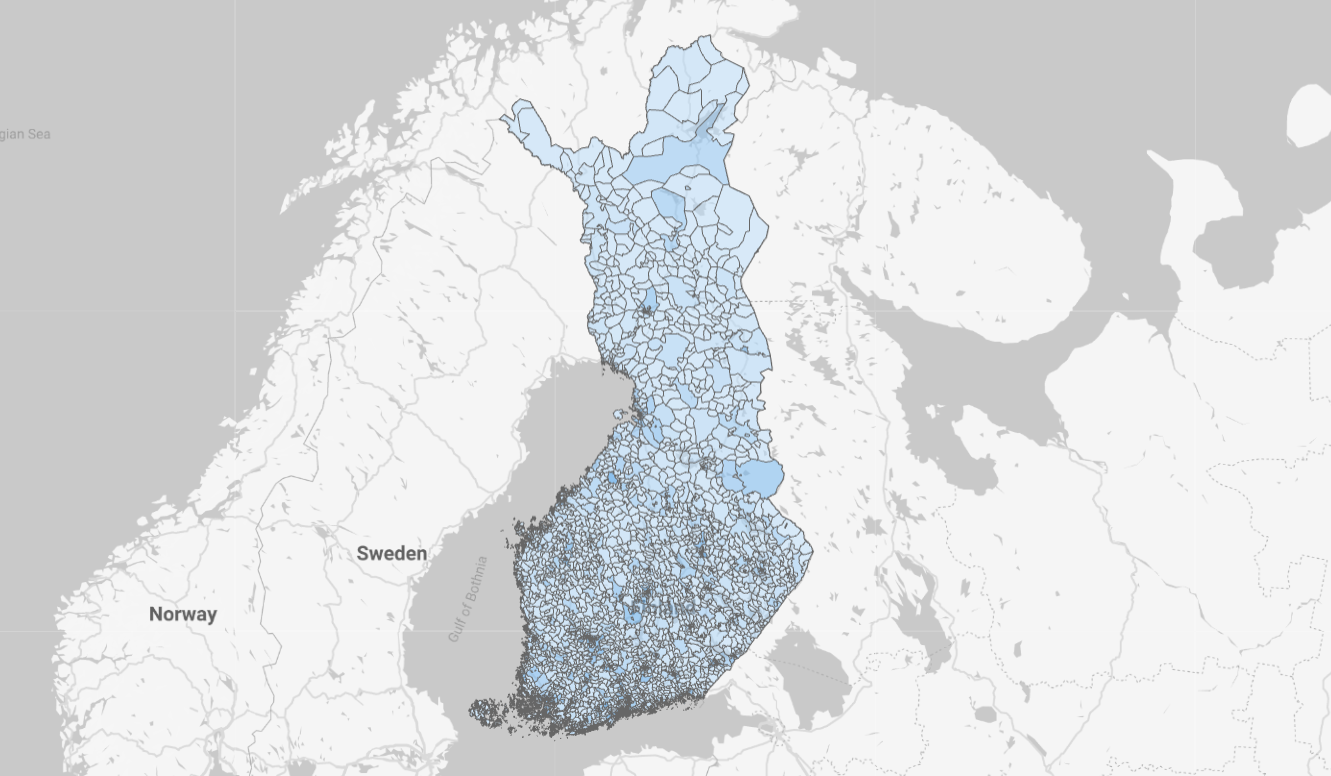 The example file postal codes in Looker Studio.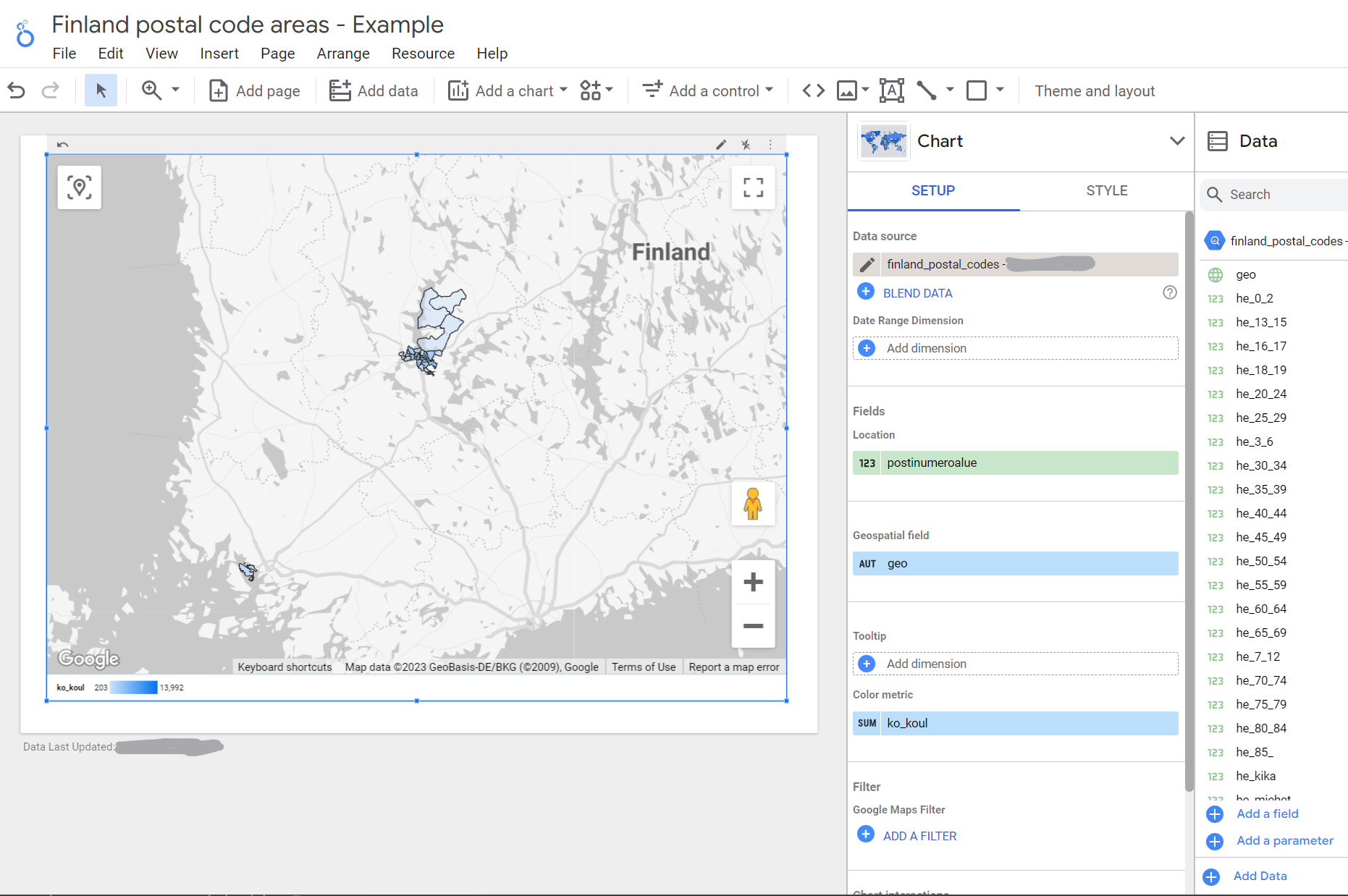 Visualizing postal codes on a map in reporting tools
Ordering postcode data
Leave a message in the contact form or call. The price of the material is 189€ or 209$ + VAT 24%.
Postcode data can be customized to suit your needs. Generic customizations that benefit other customers are free of charge.
It is also possible to get consulting help.
Who is postal code data suitable for?
You benefit from the data material in these cases:
You want to visualize numbers in a map view
Compiling the Statistics Finland's data seems difficult
You need the boundaries of the postcode areas in longitude and latitude
You need the centroids of the zip code areas in longitude and latitude
Representation of postal code areas in the software product
How does the data differ from Statistics Finland's open material?
Statistics Finland's material contains figures by postal code area on these topics:
Population structure
Level of education
Disposable income
Household size and life stage
Buildings and apartments
Jobs by industry
Residents' main activity
Statistics Finland's material is difficult to find and compile, according to many. In addition, the map points are expressed in ETRS-TM35FIN format that most modern business reporting software does not support.
Summary of the information added to the further processed material for each zip code area:
The name of the municipality
Postal code boundaries as multi polygons
The centroid of the postal code area
The conversion of Statistics Finland's coordinate and polygon format into longitude and latitude circles requires programming skills. The work takes even an experienced creator hours.
Simply compiling the data into a single file can prove to be time-consuming.
Data of the boundaries of postal code areas
Postal code boundaries are expressed in MultiPolygon format in this sellable dataset.
In practice, this means that each postcode area is represented by one or more polygons. For example, the postal code area of Naantali, located in the archipelago, consists of nine separate areas.
The coordinates are as latitude and longitude in the standard geographic coordinate system. Longitudes between -180 and 180 and latitudes between 0 and 90 for both south and north.
Postal code dataset metadata
You can find the original descriptions of Statistics Finland's variables here .
Here is the list of added variables:
| Column | Explanation |
| --- | --- |
| multi_polygon | Postal code area boundaries in MultiPolygon format as standard map coordinates. |
| longitude | The x-coordinate of the center of the postal code area in degrees. |
| latitude | The y-coordinate of the center of the postal code area in degrees. |
| kuntanimi | The municipality name in which most of the buildings in the postcode area are located. For example, Tampere or Jyväskylä. The original data only has the municipality code, eg 837 or 179. |
The data includes all 3026 postal code areas in Finland from 310 municipalities. There are 8088 separate polygons, so on average almost 3 per postal code area. This is explained mainly by the scattered Turku archipelago.
Polygons are defined with a total of 725 661 coordinate points. On average, one polygon therefore consists of about 90 coordinate points.
Usage rights
The usage right for the purchased dataset is use case specific. It concerns specific team or application. The usage right has no time limit.
The original postal code data and municipality codes have been downloaded from Statistics Finland's interface service on 20 April 2023 under the license CC BY 4.0 .