DataCamp is an online learning platform for data science. The data science course catalog contains wide selection of Python, R, SQL and Excel videos and assignments.
I share my experiences about DataCamp and walk through the benefits of each subscription plan.
DataCamp - The online learning platform for data science
In a nutshell: DataCamp is an online learning platform to improve your data science skills. The courses are not live, so you can complete them at your on pace. The offered data science courses consist of learning videos and assignments.
You find the DataCamp course listing by logging in and choosing Courses from the navigation on the left.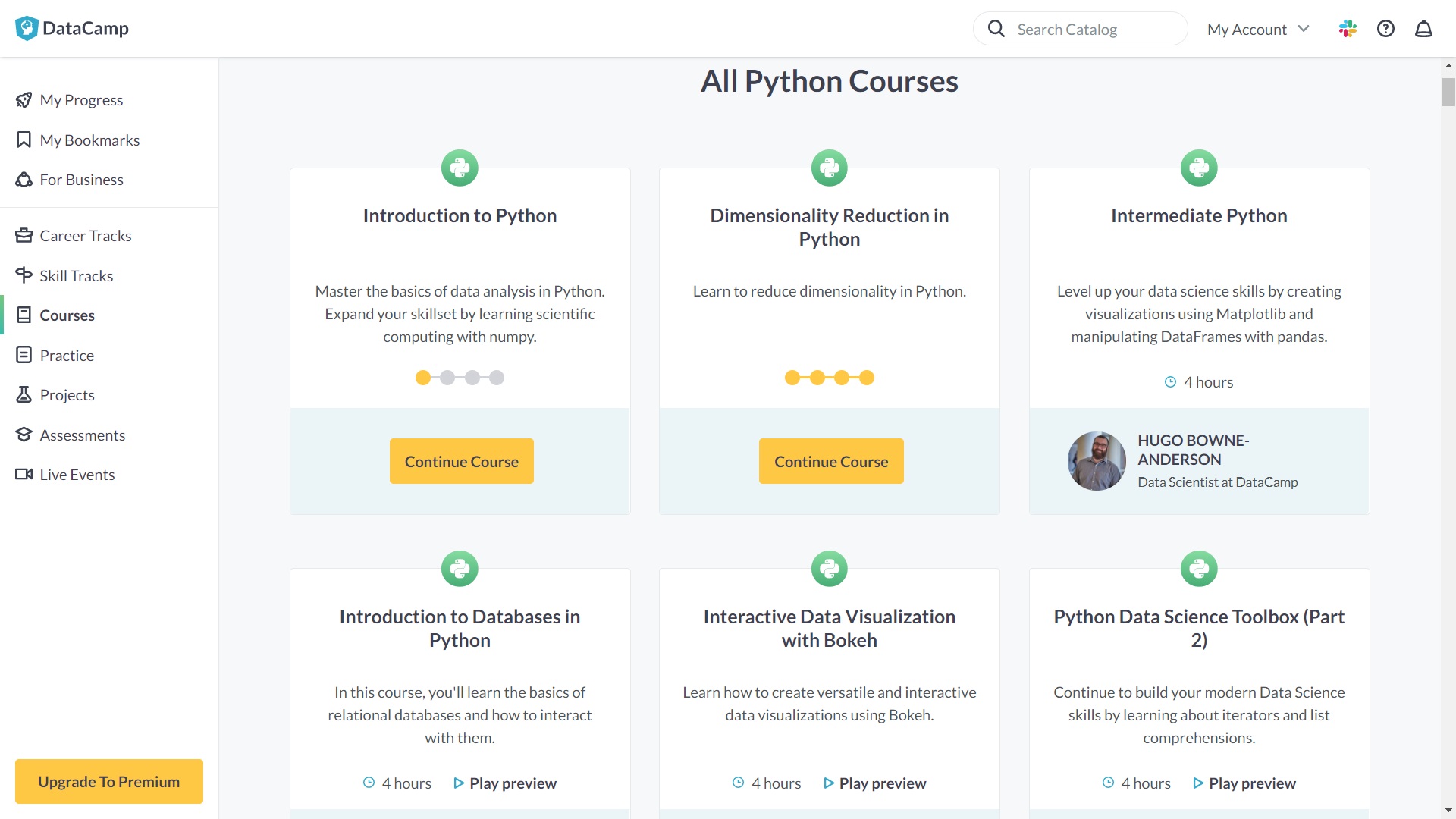 DataCamp pricing and features
The pricing model of DataCamp is split for individual and business users. The business plans enable the admin panel to make data science learning more managed for teams.
In the upcoming price plan comparison the prices are annually billed prices per month per user. Check to up-to-date prices and features from the pricing page.
DataCamp for individuals
There are three price levels in DataCamp for individuals: Free, Standard and Premium.
DataCamp Free
This option is meant to browse around the materials. Watching the first video of each data science course is a nice way to find the most interesting ones.
The free version of DataCamp is not suitable for real data science learning.
DataCamp Standard - 22 € per month
All the significant data science courses including Python, R, Excel, SQL and neural networks. A typical duration for a single data science course is 4 hours.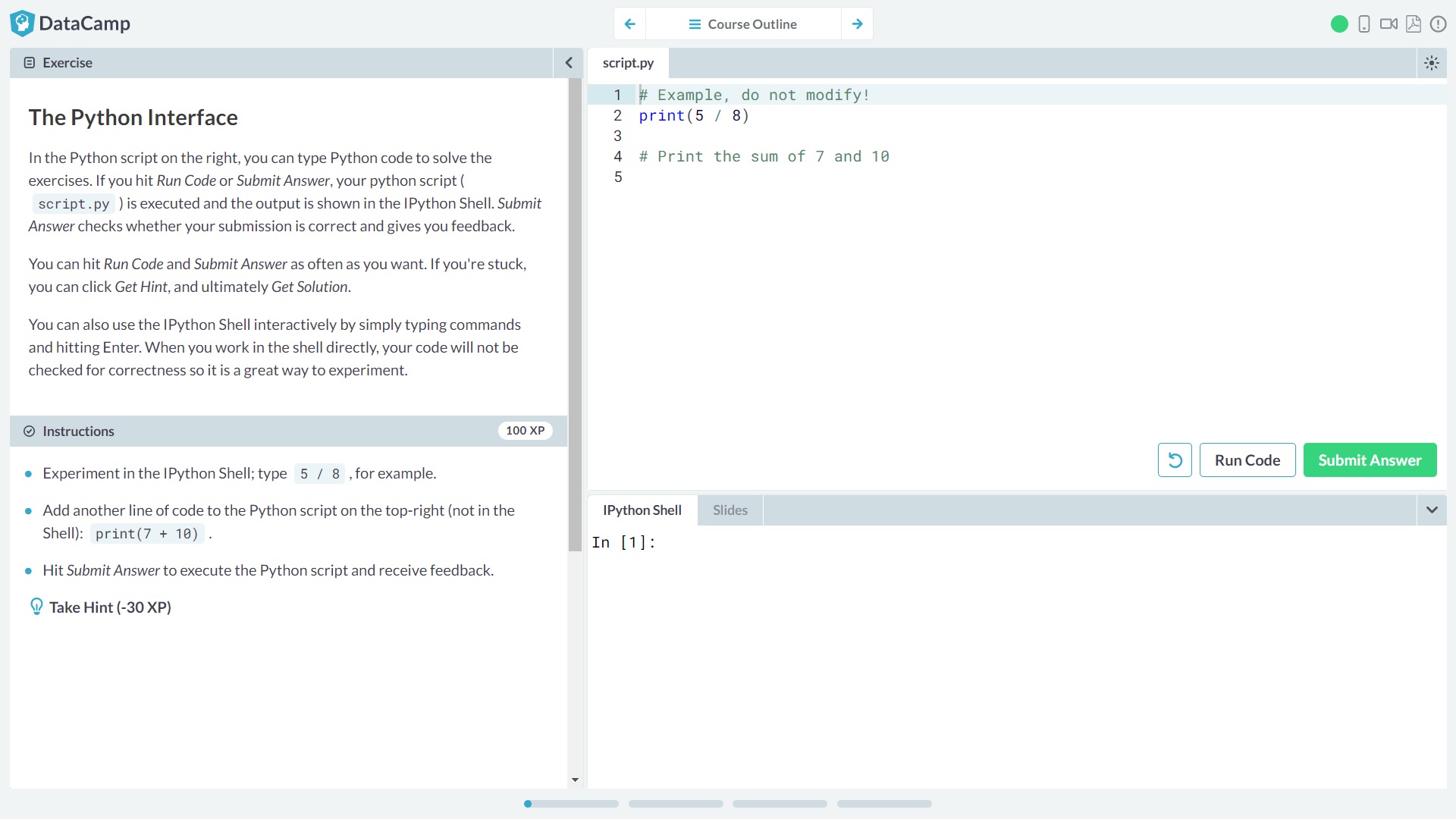 The are also data science course bundles called Skill tracks and Career tracks.
Here are some examples of Skill tracks having variations in tools and programming languages:
Statistics fundamentals
Python programming and R programming
Deep learning
Image processing
SQL fundamentals
Spreadsheet fundamentals
Machine learning fundamentals
There are fewer data science Career tracks which does not make them less interesting:
Data scientist
Data engineer
Data analyst
Machine learning scientist
Additionally DataCamp Standard has the Signal tool which can be found from the Assessment section of the home page . This provides a convenient way to track your own progress.

With DataCamp Standard you also gain access to data science courses on mobile device. Not the forget the opportunity to ask from the DataCamp community help when needed.
DataCamp Premium - 28 € per month
The more expensive plan adds courses for reporting tools Tableau and Power BI as well as Oracle database.
The Premium plan is clearly targeted for well established enterprises with robust balance sheet. This comes from the fact that the mentioned three tools are commercially licensed, while Python and R are open source and free.
If you are interested applying your data science skills to projects, the DataCamp Premium plan might be for you. As the other sections, the Projects is visible on the left navigation bar after you are signed in .
To mention a few DataCamp Projects they have COVID-19 data analysis, Lego company data exploration and credit card approval assessment.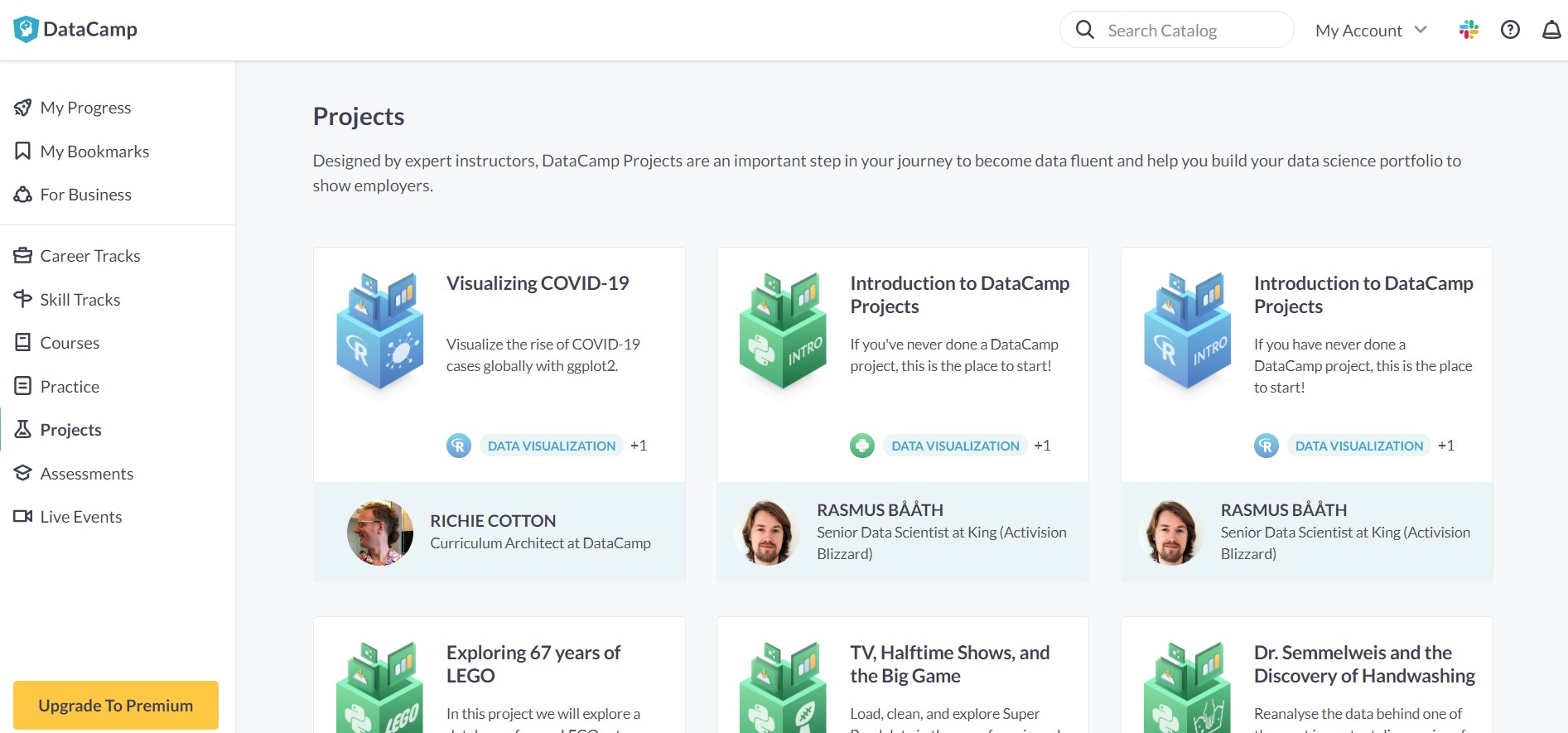 DataCamp for businesses and teams
DataCamp Professional - 22 € per month, min 5 users
This pricing plan enables the admin dashboard to manage team's progress. Great way to make the learning experience more solid and effective.
The admin is capable of creating assignments adjusting user roles and permissions. This makes learning much more structured. Does not make it any worse if the admin has some data science experience as well.
Obviously the technical support increases in the Professional version.
DataCamp Enterprise - Customize data science training
DataCamp's Enterprise plan is for fully tailored data science training. The package price is not fixed.
DataCamp is an affordable option for data science trainings
I have always been wondering, why companies pay even thousands of dollars for half day classroom trainings. Especially in IT industry there is endless amount of free and cheap learning material.
An individual capable of taking the data science online courses in DataCamp by themselves would cost 300-400 $ during a whole year. With monthly billing you do not have to even commit for that long period of time.
Data science skills are not learned in a day or two. Allocating the learning hours to wider time span is most probably better for the learning results.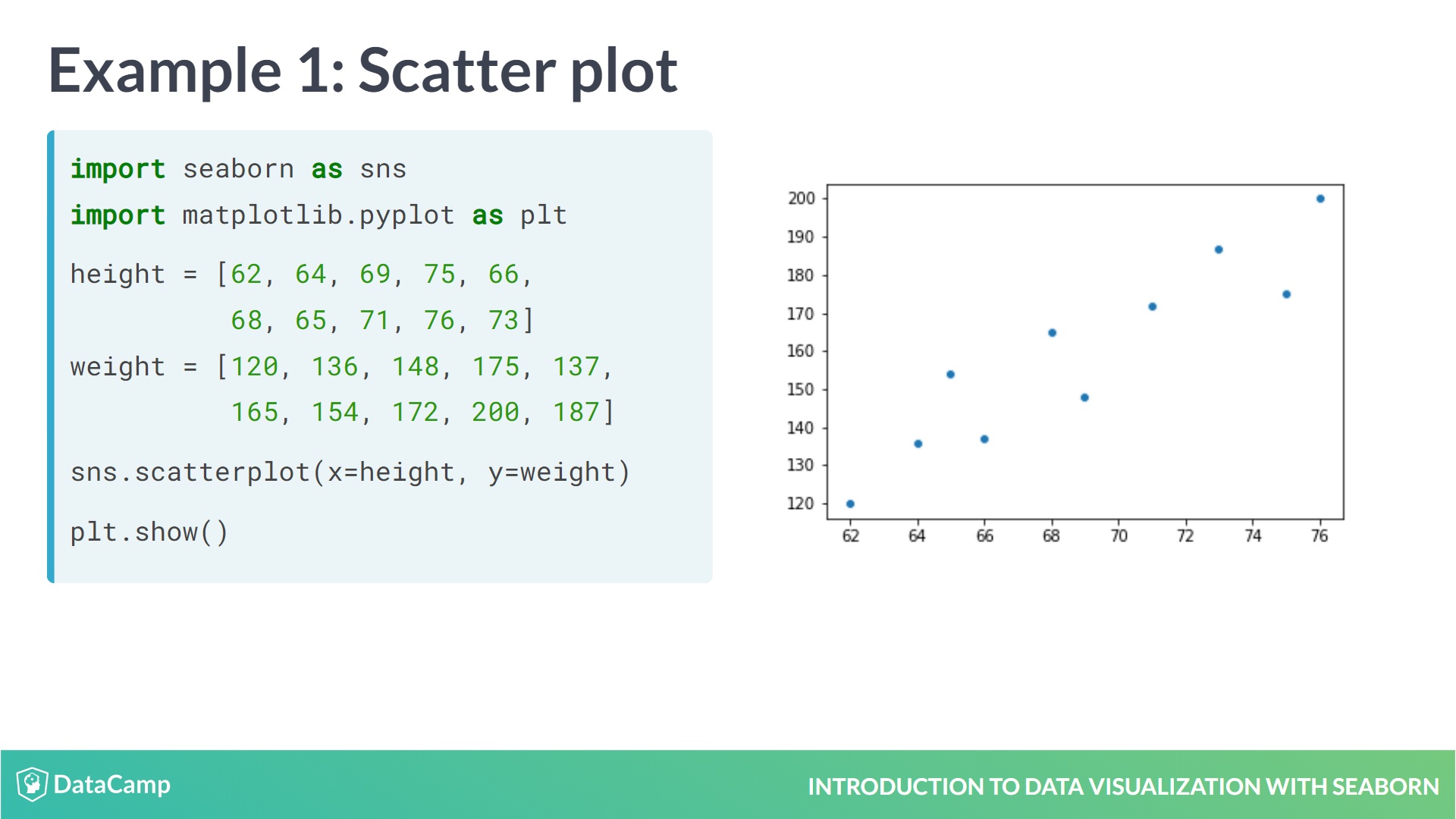 It goes without saying, that data science self learning takes more planning. This is the strength that the traditional classroom session and a teacher brings. The required learning hours will not magically be summoned to data scientist's calendar. Rather, the time must be booked well in advance.
After these thoughts it easy to understand the benefit from the DataCamp business plans. The data science administrator interface is useful when managing the training of a bigger team.
Experiences of data science courses in DataCamp
Personally I have used DataCamp in a couple of occasions. In my previous company we designed a year long data science training program for a large stock listed company. The data science headmaster monitored the improvement of around twenty attendees in DataCamp's admin panel. My role was to pick relevant courses for the data scientists to be.
Exceptionally on May 2020 DataCamp announced that all of their data science content would be free for one week. I exploited the opportunity by collecting ideas for my current work project rather than learning novel data science skills. Eventually I got really good insights that helped to push the work project forward. The topics were about feature selection and feature importance in machine learning.
So personally I have not paid for DataCamp so far. Around five years ago when I entered the data science industry I was not familiar with DataCamp. Meanwhile I drew my knowledge from other sources.
Today, the platform is very well know and appreciated among the data science community.
Is DataCamp worth paying?
Is it good investment to pay around 30 dollars a month for DataCamp?
DataCamp's materials are much better quality than free Youtube or blog tutorials. Plus when you pay for the service, you automatically prioritize it higher.
The crucial thing is to plan your time spending. Can you commit to DataCamp's data science courses with your calendar?
Because it is not about the wallet. DataCamp is pretty much guaranteed value for money and the next step towards your data scientist dream job. You just need the motivation and reserve some time. Or is Netflix still more important?
Create the DataCamp account once you are committed to data science training for a few weeks or months.